Do you have a dream to protect our nature? If yes, then you have a chance to protect the environment by working in the Indian Forest Services. Indian Forestry Jobs are Central Government Jobs. It is quite different from other types of jobs as it does not depend on time. You will have to work 24 hours to protect the forest. Forest services are in great demand in India.
Indian forest officials are responsible for the protection and management of forests. You may have doubts about how to become a forest officer in India. In this article, candidates can get the details of Forest Officer course educational qualification, age limit, selection process, roles and responsibilities, pay scale etc. from here.
An Indian Forest Officer is a designated Group B Gazetted Government Officer of the State Forest Services. He is the executive in-charge of the forest. The responsibility of the Forest Officer is to maintain the relevant revenue, manage the forest, write and submit reports to the authorities.
The ultimate responsibility of an Indian Forest Officer is to conserve forest resources. Some of the responsibilities of a forest officer are given below.
Preventing goats, sheep and cattle from entering forest land.
To collect forest revenue and make payments for forest works executed.
Writing and presenting reports for the Forest Department and Forest Ministry.
The responsibility of the forest officer is to conduct frequent surveys of soil, topography, flora, fauna etc.
Their duty is to seize illegal exploitation of forest resources.
Checking telephone and power line setup.
Planting trees in forests to expand the forest.
Assigning work to subordinates and managing their work.
Providing medical aid to injured animals and birds.
To prevent hunters from killing animals.
National Eligibility cum Entrance Test (NEET)
Aligarh Muslim University Engineering Entrance Examination (AMUEEE)
All India Pre-Veterinary Test (AIPVT)
Banaras Hindi University Undergraduate Entrance Test (BHU UET)
Joint Entrance Examination – Advanced (JEE Advanced)
Joint Entrance Examination – Main (JEE Main)
Indraprastha University Common Entrance Test (IPU CET)
National Entrance Screening Test (NEST)
National Aptitude Test in Architecture (NATA)
See more:
Candidates who wish to become Forest Officer have to fill the online application form. Visit the official website of UPSC and fill all the required details like photo ID, signature, Education details, fees etc.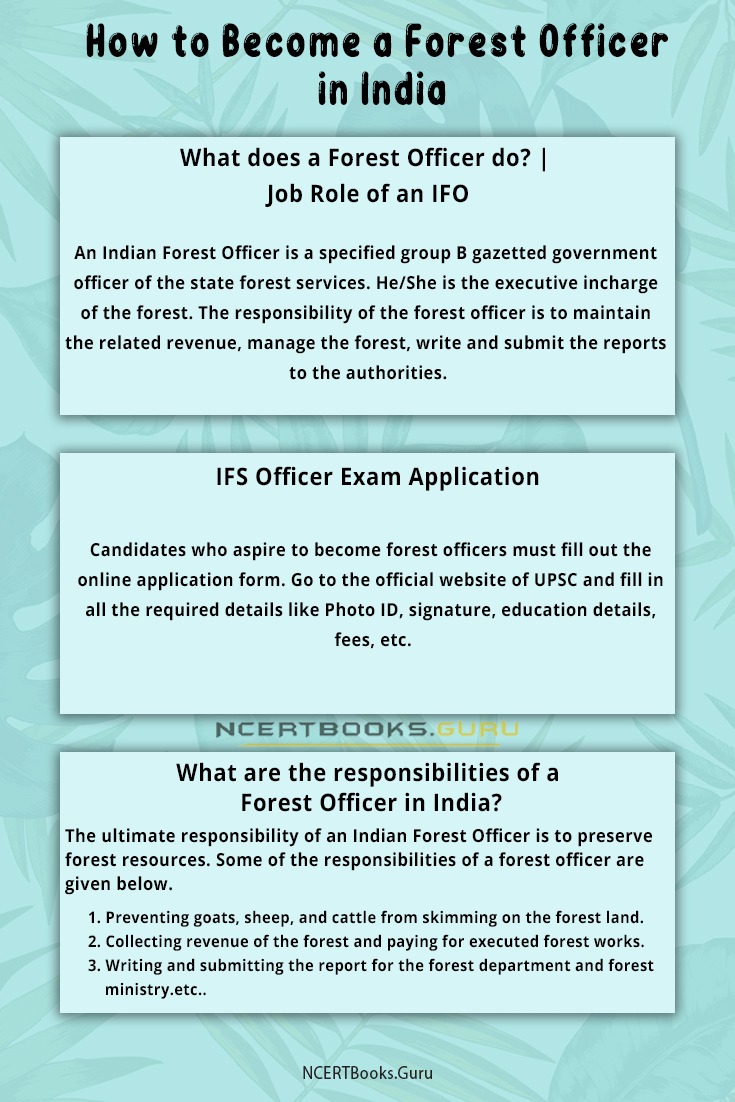 To become an Indian Forest Officer, candidates have to follow some steps. They are as follows,
To apply for IFO post: First of all, the candidate has to fill the application form along with the information brochure of Indian Forest Service Examination from any post office. Fill the application form and send it to the given postal address.
preliminary examination: Candidates will have to appear for the prelims exam in the month of May or June. There are two papers in the exam
Paper-I – General Studies (150 marks)
Paper-II – Optional Subject (300 Marks)
Following are the optional subjects which have to be studied in Paper-II.

Agriculture
Botany
zoology
public administration
indian history
political Science
mechanical Engineering
Electrical engineering
Civil Engineering
Economics
Visit
statistics
Mathematics
Geography
Psychology
Business
Sociology
Geology
Animal Husbandry and Veterinary Science
chemistry
Law
Physics

Main Exam – Candidates who have secured the cut off marks in the examination will be shortlisted for the main examination. The main examination paper is of descriptive type. The pattern of main examination is shown below.


| | |
| --- | --- |
| Objective | Mark |
| Essay Type of Indian Language Aptitude Paper | 300 |
| English | 300 |
| common essay types | 200 |
| General Studies Paper | 300 |
| optional subject | 300 |

Candidates who have secured top position in the main examination will be called for personal interview. You may have a physical standard test before or after the personal interview. Candidates who perform well in the interview will be selected for the post of Indian Forest Officer.
Candidates who want to join Forest Officer in India must fulfill the eligibility criteria given below.
Educational qualification – Candidates must have completed Bachelor's degree in any medical, science or engineering field from any recognized university. After that, you have to qualify the preliminary exam and main exam to get selected for IFS (Indian Forest Service).
nationality – The applicant for this Forest Officer post must be an Indian citizen. If the government allows then candidates from Nepal, Bhutan, Tibetan can also apply for this IFO job. And candidates of Indian origin from Pakistan, Sri Lanka, Myanmar, Vietnam and East-African countries are also eligible to apply for Forest Officer jobs.
Age Range – The minimum age of the applicant is 21 years and maximum age is 32 years. Five-year extension for SC/ST, ex-servicemen and Jammu and Kashmir residents. Extension of three years for OBC and 10 years for Physically Handicapped candidates.
Physical and mental standards – Physical fitness and mental fitness are also important to qualify for the post of Forest Officer. After qualifying the written examination and interview the candidate will have to undergo some medical examination. If you are medically fit then you will be eligible for Forest Officer.
There are four stages of selection process to select the candidate for the post of Forest Officer.
preliminary examination
main exam
personal interview
Mental and Physical Standard Test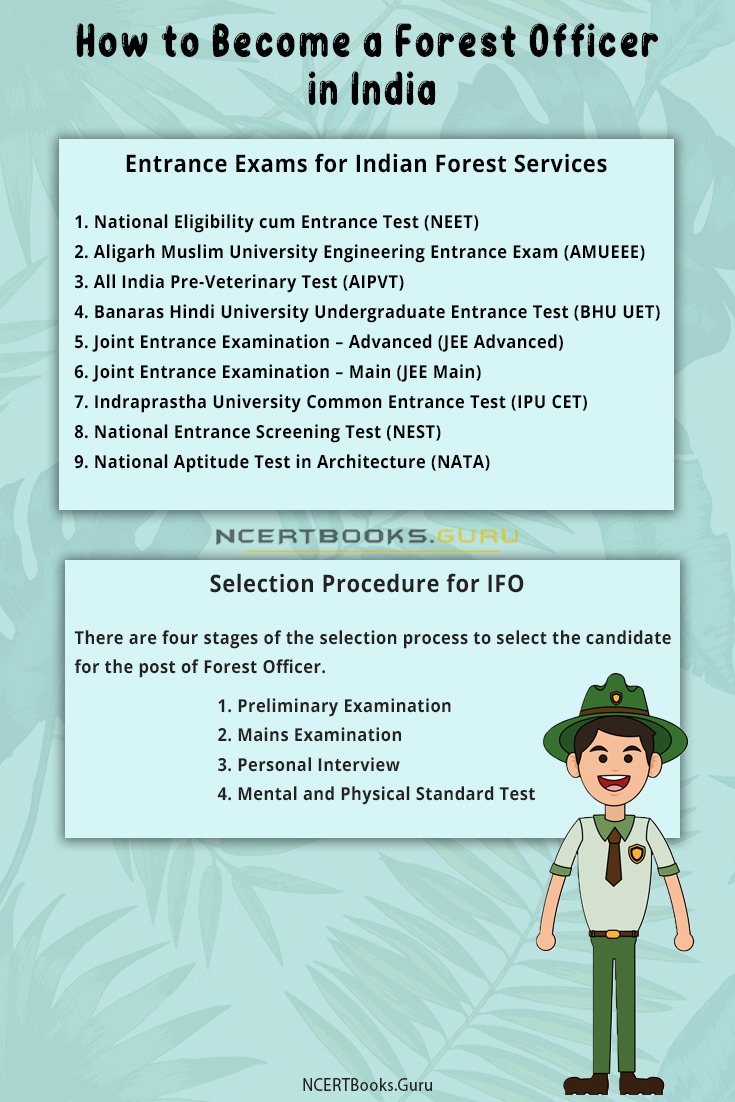 The estimated salary of a Forest Officer in India is Rs. 3,71,000 per year. Based on your rank and performance you will get higher salary. Since this is a central government job, you will get more benefits.
FAQs for becoming an IFO
1. What is the qualification of Forest Officer?
Bachelor's degree in any subject like Science, Botany, Mathematics, Physics, Geology.
It is very difficult to crack this post in both Indian Forest Officer and IAS examinations.
3. How many IFOs are elected every year?
Every year an average of 35 candidates will be selected for the Indian Forest Officer post.
Summary
We believe that the details present in the above article "How to Become a Forest Officer in India" are useful for you. Please post your doubts as comments in the comments section below. Bookmark our site to get latest updates regarding Indian Forestry Jobs.